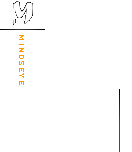 With a unique synergy of creativity and technology, Mindseye melds "state-of-the-art" with "art-of-the-mind", yielding award winning Original Music, Sound Design and Audio Post Production services that are unparalleled.

Under the creative direction of industry veteran William Pearson, Mindseye's mission is to fulfill the vision of it's diverse clientele by delivering product that is singular in it's quest for perfection.

We are experienced in the film, music, television, and multimedia industries, and believe that you can tell a lot about someone by the company they keep, so please browse our clients and credits page and contact us for help in reaching your creative vision.